Bring next-level comfort to your CPAP treatment with V-Com
TM
Designed by a leading sleep scientist, V-ComTM for CPAP is a purpose-built FDA-registered device that makes CPAP treatment quieter, less disruptive, and easier to access for sleep apnea patients across the globe.
Discover a smarter way to sleep today.
V-Com
TM

Makes your CPAP Therapy Easier
Are you ready for a better night's sleep?
Designed by a leading sleep scientist, V-ComTM for CPAP is a purpose-built, FDA-registered device that reduces many of the negative effects of CPAP treatment, making it more comfortable and easier to tolerate.
30-Day Money-Back Guarantee – Free Shipping within USA
V̇-Com™ listed first among Top New Sleep Innovations in 2022
Of new sleep apnea patients prefer V-Com™ for their CPAP therapy
Of long-term sleep apnea patients that tried  V-Com™ kept using it
Expected reduction in CPAP machine noise with  V-Com™
Designed to help individuals with Sleep Apnea better tolerate CPAP, V-Com™ improves comfort and reduces the negative effects of your treatment without changing the effectiveness of your therapy.
Get the Restful Night of Sleep You Deserve
Studies have shown that a CPAP machine is the most effective treatment for sleep apnea. When the machine is used regularly and correctly, CPAP therapy is nearly 100% successful. Despite this, less than 50% of patients continue therapy long-term as they fail to adapt to the machine's high inspiratory airflow, increased pressure and noise.
V-ComTM was engineered explicitly to soften airflow while maintaining the core benefits and lab-tested effectiveness of CPAP. The result? A disruption-free night of restful, comfortable sleep.
Minimize Noise & Maximize Efficiency
V-Com
TM

Supports a Quieter, Less Disruptive Experience
One of the major drawbacks to standard CPAP devices is the associated noise – breathing issues aside, it's hard to sleep when dealing with constant buzzing and whirring. This doesn't just disrupt your sleep therapy; it interferes with the sleeping habits of your partner.
We designed V-ComTM to mitigate this. In fact, alongside reduced circuitry leaks and increased comfort, a reduction in noise is one of the most common supplemental benefits users cite when switching to the device.
V-Com
TM

named Top
New Sleep Product
for 2022
Join the thousands of
CPAP users who are finding
relief with V-Com
TM
Outsmart sleep apnea with cutting-edge science
For decades, conventional CPAP devices have treated sleep apnea by focusing on maintaining pressure when the patient inhales. Though effective, this has resulted in CPAP therapy that is often noisy, disruptive, and uncomfortable.
In 2021, Dr. William Noah and a team of leading sleep science researchers began exploring ways to incorporate expiratory pressure into the PAP process by focusing on exhaling as well as inhaling. They uncovered a revolutionary new method for softening high airflow and pressure without compromising efficacy, then used these insights to develop a game-changing new device: V-ComTM.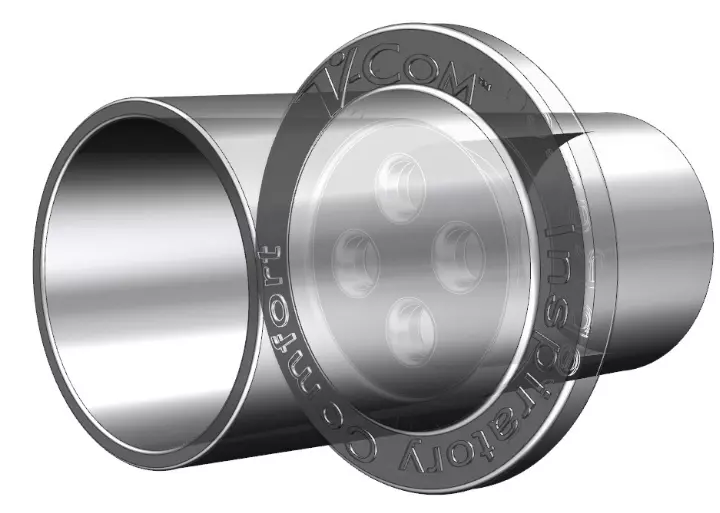 "It improved my sleep and stopped my morning bloating."
"V-Com decreased my leak and got rid of my chinstrap."
"I finally got rid of my full-face mask and switched to nasal pillows."
Optimize and improve your sleep apnea treatment with V-ComTM, no prescription required!
30 Day Money-Back Guarantee